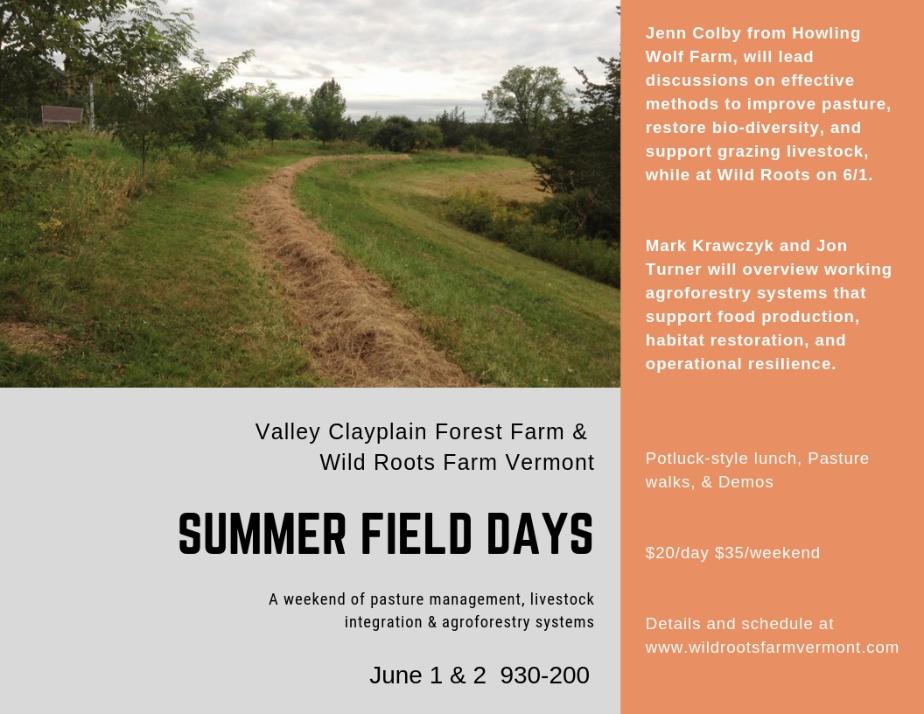 What : Summer Field Days: A Weekend of Pasture Management, Livestock Integration, and Agroforestry Systems
When/Where : Saturday, June 1st at Wild Roots Farm, Bristol, VT
Sunday, June 2nd at Valley Clayplain Forest Farm, New Haven, VT

Admission : $20 for one day. $35 for the weekend. Proceeds support instructors and on-farm education.
RSVP: Please inquire at 802-377-1214 or wildrootsfarmvt@gmail.com.
Details : Calling all grass farmers, homesteaders and growers! Join us to learn about about methods for building a robust soil network that support grazing livestock, food production, and bio-diversity. There will be time spent in a classroom setting as well as in the field, observing and interacting with living systems.
On Saturday, Jennifer Colby of Howling Wolf Farm and Jon Turner of Wild Roots Farm will lead pasture walks through Wild Roots to discuss grazing/rest periods, pasture management, soil building and habitat restoration.
On Sunday, Mark Krawczyk will lead a pasture walk through Valley Clayplain Forest Farm that demonstrates a working agroforestry system and forest farm.
There will be a potluck style lunch both days; please bring a dish to share.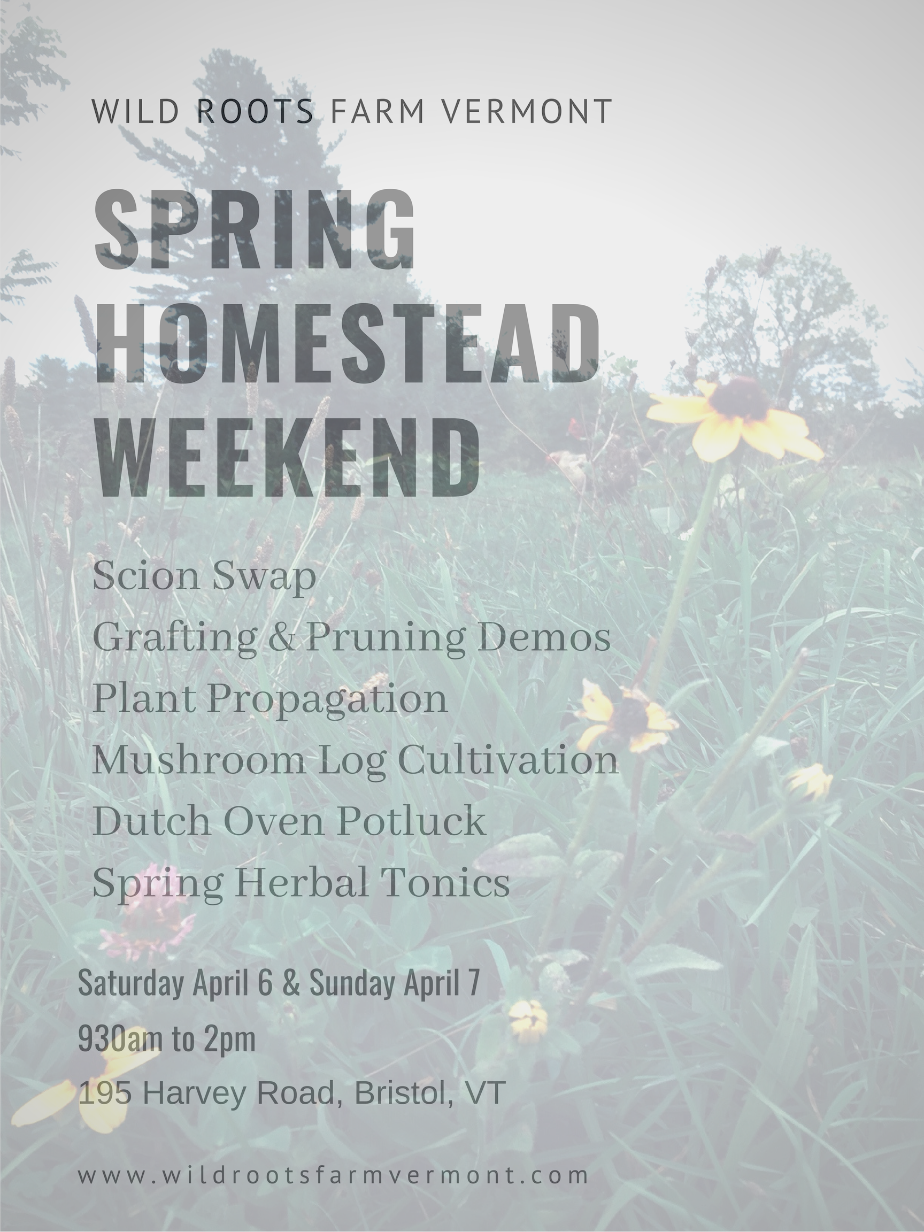 Join us the first weekend in April for a Scion Swap, Dutch Oven Potluck, and Homesteading Demos
Saturday, April 6 we will be joined by Nico Rubin from East Hill Tree Farm (bench and top work grafting), Buzz Ferver from Perfect Circle Farm (plant propagation), John Hayden from the Farm Between (hands-on fruit tree and berry bush pruning). Scion Swap is on Saturday only, bring some cuttings you wish to trade (apple, pear, plum, ribes, elderberry). Rootstock, grafting tape and grafting knives will be available if you do not have any.
Sunday, April 7 we will be joined by Katherine Elmer from Spoonful Herbals (mushroom medicine), Emily French from Sweetgrass Herbals (herbal spring tonics) and Jon Turner from Wild Roots Farm (mushroom cultivation)
Bring a Dutch oven dish, some cider and a banjo or two. We will be outside as well as in a large high tunnel. Dress appropriately for weather. Bareroot and potted plants will be available for sale from Nico, Buzz and John, so check out their websites and get excited for tree planting season.
The gathering will run from 930-200 each day. Cost is $10 for one day, $15 for both. Proceeds are split among instructors and Wild Roots Farm Programs.
For more information contact Jon at Wildrootsfarmvt@gmail.com
We look forward to seeing you on the farm.